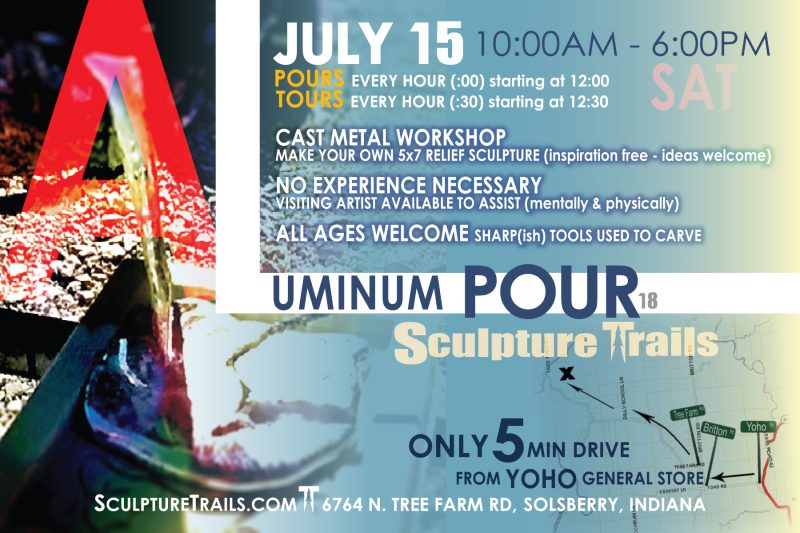 Event Details
From: July 15, 2022
To: July 15, 2022
Starting at: 11:00 AM
Finishing at: 05:00 PM
Address
Sculpture Trails
6764 North Tree Farm Road
Solsberry, IN
47459
United States
502-554-1788
For over 20 years Sculpture Trails Outdoor Museum is hosting its Annual Aluminum Pour. Come out to the Museum this July and see the incredible art of casting aluminum. Visitors will be able to learn from the artist- interns and create their very own relief sculptures by purchasing a scratch block. All ages and experience levels will love this process.
How?
Create your relief sculpture at the Museum or take one home and bring it back on July 16th during the event.  Watch as the Trails crew cast your work of art in aluminum right before your eyes and ready to take home that day.
The Details.
Come out to the Trails on July 15th from 11-5 pm and watch the art of cast aluminum.
The Sculpture Trails artist interns will be at our carving zone ready to help you create your very own metal art.  Aluminum relief sculptures are only a $25 donation that goes towards funding the Museum's public art programs within the community. This is a fun and easy project for anyone in the family to enjoy. Experience a fun day full of   art while hiking the Trails. Explore over 166 sculptures in the Museum's collection while learning about cast aluminum art.
For more information about this event please contact Gerry Masse at (502) 502-1788 or email Gerry at sculpturetrails@gmail.com