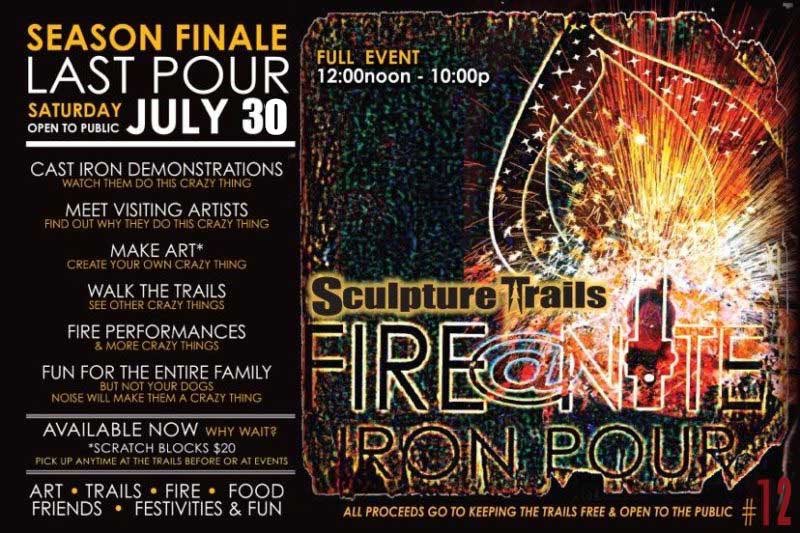 Event Details
From: July 30, 2022
To: July 30, 2022
Starting at: 12:00 PM
Finishing at: 10:00 PM
Address
Sculpture Trails
6764 North Tree Farm Road
Solsberry, IN
47459
United States
502-554-1788
This unique community event gives you the chance to witness artists using the cast iron process in many different ways. During the day you can see how artists use molten iron to create explosive performances and then watch the Trails Crew pour a few tons of molten iron at night with the big Lady D Furnace that taps close to a thousand pounds of iron all at once!
At this event will see iron explode into the air and learn how cast iron sculpture is made. You can walk the Trails and talk to artists from all over the country throughout the day. Then in the evening grab a blanket, flashlight and relax, the main iron pour will begin around 8pm.
Your fun filled schedule for the day:
From 2-7
You can witness a few crazy Iron Performances and carve your design for us to cast in iron for you! This is the last day of the summer to make your very own cast iron relief sculpture! From 2-7 you'll have time to explore the Trails and make your own cast iron relief sculpture that you can take home with you. Artists will be there to help and will pour your mold right before your eyes at the evening iron pour!
Doodle Bowls and Scratch blocks will be available until 8pm and BBQ will be on site to keep your family smiling!
From 8-10
Starting at 8 the Iron Foundry will start pouring iron into the evening using 2 iron furnaces at once. You will see the bright red molten iron hanging from the crane as it is poured into huge sand molds made by the Iron Workshop Artists right along with the scratch blocks you made. Come on out and share this unique experience with us before our summer workshops end.
This is an event you don't want to miss!
For more information about this event
please contact Gerry Masse by phone call or text
(502-554-1788) or email (sculpturetrails@gmail.com).
Fun for the entire Family
But not safe for dogs
Available Now-Why Wait?
Scratch blocks $20
pick up anytime at the Trails Foundry before or at the event